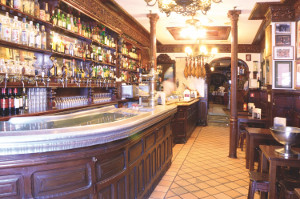 To know the tavern Casa Alberto is to know one of the Madrilenian temples of gastronomy. It is situated in the Barrio de las Letras. Since first opening its doors in 1827, it has not stopped reaping success. Its cuisine is a good sign that culinary tradition is not incompatible with artistic presentation. Among its most traditional recipes are oxtail, cod 'a la madrileña', tripe, veal meatballs, lamb shank, ham croquettes and the classical stews, that are always present in its menu, as well as homemade desserts. It is said that Miguel de Cervantes wrote one of his most famous works "Journey to Parnassus" in this old building.
The characteristic elements of a Madrid tavern from this period have been maintained. Features like the long, curved zinc wet bar, its beer taps, its unique, one-off onyx counter, the tables with stools, wrought iron pillars, wooden skirting boards, the shelves of liquor bottles, the flasks and sets of measures to serve the wine are all there.
Miguel de Cervantes lived in this prime building during the years 1613 and 1614. Here he wrote several chapters of the 2nd part of Don Quixote and "Los Trabajos de Persiles y Segismunda" and in this house he completed his work "Journey to Parnassus".
Open hours:

Tavern: 12:00 a 01:30
Restaurant: 13:30 a 16:00 y 20:30 a 24:00
Closed Sunday evenings and Monday.

Phone: 91 429 93 56
Fax: 91 429 07 06

Address: C/ Huertas, 18. 28012 Madrid
Casa Alberto
Address: C/ Huertas, 18. 28012 Madrid

Open hours:
Tavern: 12:00 a 01:30h
Restaurant: 13:30 a 16:00h y 20:30 a 24:00h

Closed Sunday evenings and Monday.

Cuisine: Traditional Madrid cuisine


Specialities: Rabo de toro, bacalao a la madrileña y callos

Average price: 25€-30€